Gubagoo study also finds: gradually ramping up value of published offers on dealer websites saves $18,000+ a month
West Palm Beach, FL–June 24, 2014 – With dealerships making record investments in driving traffic to their sites, the website engagement leader, Gubagoo, today released new research on what kind of ad formats and published offers convert at the highest rates (and most cost-efficiently) at dealer sites. An analysis* of 1,000 dealerships found that much smaller ad tools that present targeted offers (made possible by tracking that visitor's click behavior) generate more leads (85% of monthly total) than much larger, more prominent billboard ads that display generic deals (15% of total leads).
The study also drilled down to randomly selected dealer sites to measure the impact of ramping up the dollar value of published offers to repeat visitors over time, rather than presenting static "best" offers upfront. This ramped-up-offer strategy, also enabled by behavioral tracking software that identifies each time a shopper revisits a dealer site, saved the average dealer over $18,000 a month in offer value.
"Dealers spend serious money to drive site traffic, but there has been little research on which ad format and published offer strategies make the highest number of people pull the trigger," said Brad Title, CEO of Gubagoo. "Every inch of real estate – and every ad and published offer on a dealer's website - needs to be smartly strategized around true conversion rates. These new findings indicate that tiny ad tools that serve up personal, targeted offers really generate the leads. And also that tracking visitors, so you can step up the value of the offers you display to them on repeat visits, saves dealers significant money."
With Ad Formats, Small and Targeted is Beautiful: It's conventional wisdom that large, top-of-the-homepage billboard ads generate the most action and leads. But this new data reveals that much smaller, bottom-of-the-page, minimally intrusive ad formats, that present targeted sales and service offers, converted for dealers at much higher rates.
For the 1,000+ dealers, the performance of three, main types of ad formats/tools were studied: 1) a very small "dynamic bar" at the bottom of pages that continuously presents targeted offers; 2) a "page overlay" format, which is also an always-visible, small tab at the bottom of pages that expands when hovered over to show their offers and the claim form; and 3) very large, top-of-the-page billboard ads presenting generic offers, that are regularly visible, but not "always on."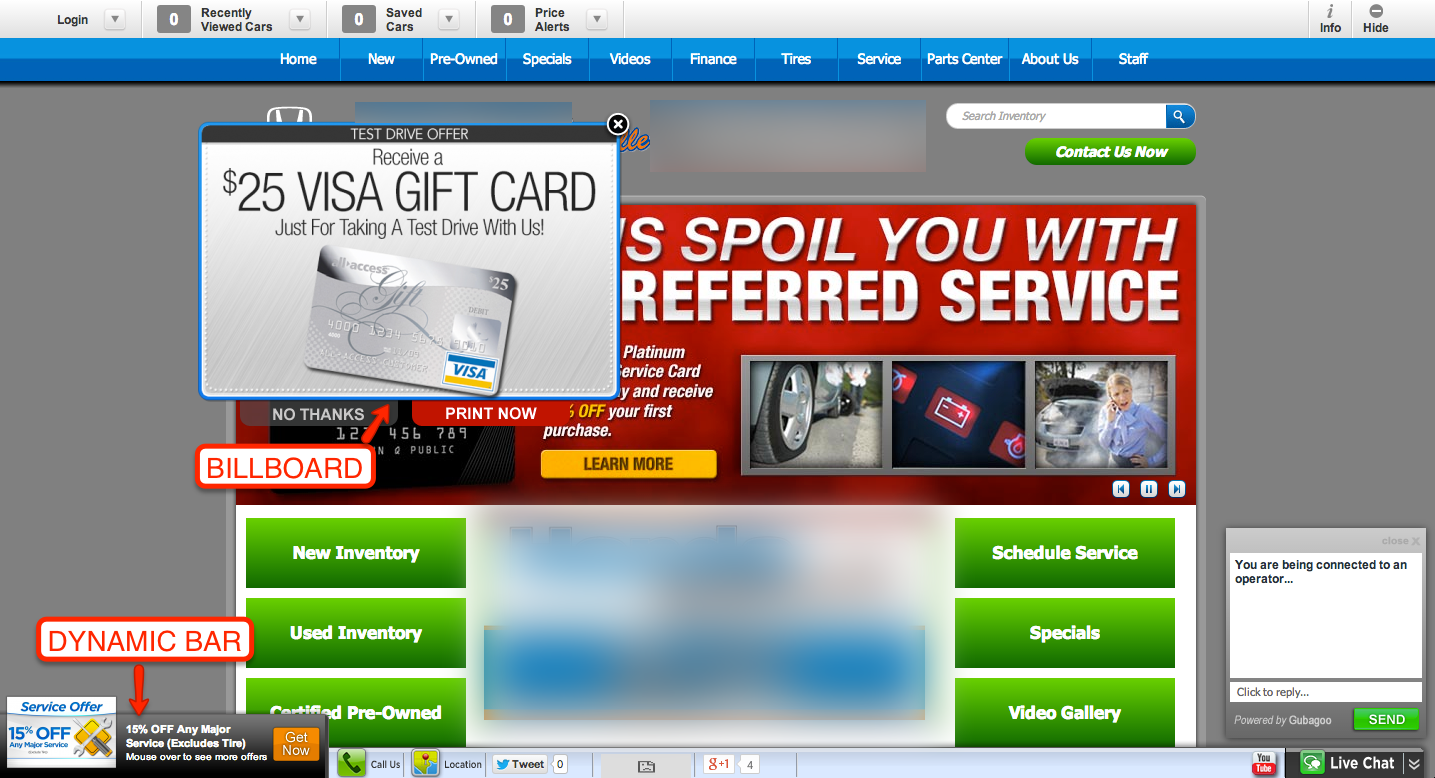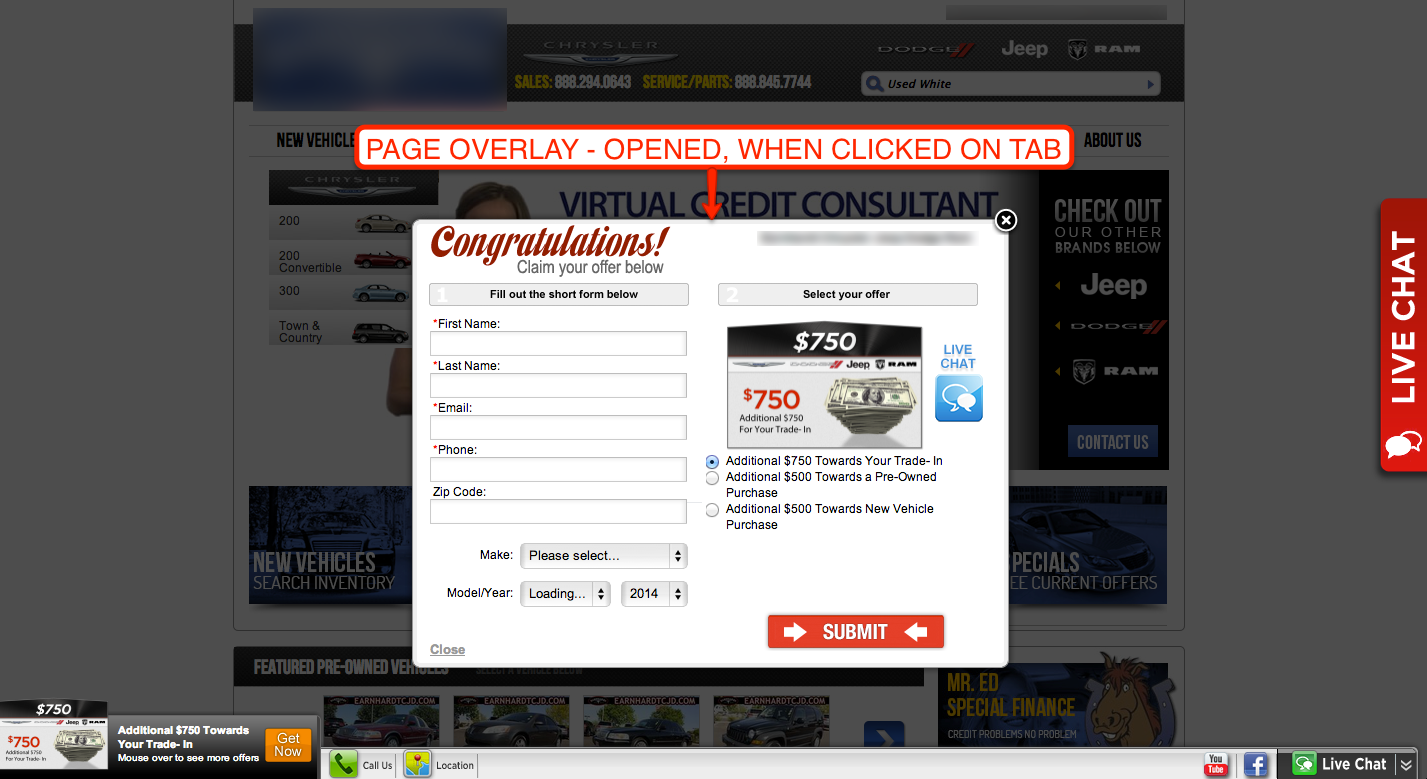 Because these dealerships were using behavioral tracking and analytics technology** that captured each shopper's site actions at each visit (i.e., the pages and cars they viewed), the two small ad tools could present more dynamic, targeted offers to them over time. And because these ad formats are so small, they can run non-stop at the bottom of site pages. The results: when it comes to getting people to fill out forms to claim offers (and hence become a lead), these tiny, targeted ad formats are the most powerful lead generators:
Publishing Tool                     % of Total Monthly Site-Driven Leads
Dynamic Bar                           46%
Page Overlay                           35%
Billboard                                 14%
Other                                       5%
For the average dealer studied, more than 4 in 5 leads generated each month came from the two tiny "deal bars" at the bottom of pages, while less than 1 in 7 leads came from big, splashy billboard ads with static offers.
The ROI of Tiered Site Offers: Most dealer websites present a variety of static, unchanging offers, whether a $50 gift card for taking a test drive, or $500-$1000 towards a new or used purchase. And they often present the highest deal value out of the gate. The dealerships studied used the same behavioral tracking software to re-identify each shopper at each visit, so that the value of published offers displayed (initially passed over) could be ramped up over time. (For instance, a visitor that was initially presented with $250 towards a new-car purchase would see that offer rise to $500 on a subsequent visit, and then up to $750 after several visits.) And this strategy resulted in significant cost-savings and more leads: with more people ultimately filling out forms to claim the deal.
The average dealer studied had over 160 different offer claim forms filled out each month, and the maximum value of the offers "on the table" per dealer was $115,000. But by incrementally ramping up offers to returning visitors (rather than displaying the highest-value offer) the average dealer saved more than $18,000.
And the data also reveals that had the dealers not ramped up the offers from their lowest value, they would have failed to incite the majority of visitors to take action. The average dealer had 71 offers claimed at the lowest dollar value, but 98 claimed at a second or third higher increment. The lowest offer proved sufficient for roughly 40% of visitors to fill out the claim form, while a ramped-up offer drove roughly 60% to pull the trigger.
"The takeaways: when dealers present static, highest-value site offers they're just throwing money away. And when they serve up unchanging, lowest-value offers the majority of their site visitors will not fill out the form to claim the deal, and, hence, turn into an actionable lead," said Title. "The strategic ramping-up of the value of published offers is the only way to squarely hit more people at their personal 'deal threshold' – and the only way to make this happen is by putting tracking software behind your site."
Top Offers Redeemed at Dealer Sites: The 1,000 dealers studied used 21 different published offers, and the top 5 most claimed overall were:
1. $500 towards the trade-in
2. $500 towards the purchase/lease of a new vehicle
3. Free car wash with service
4. $25 gift card for test drive
5. $1,000 towards trade-in
Interestingly, one of the most widely used offers on dealer sites, an oil change special, was at the very bottom of the offers-claimed list.
About Gubagoo 
Based in West Palm Beach, Florida, and staffed by a team of veteran technologists and innovators in lead conversion, Gubagoo offers revolutionary behavioral engagement and scoring technologies for automotive websites. With a mission to provide a smarter, more cost-effective alternative to the old lead generation model, Gubagoo is the first dealership website solution that successfully makes anonymous traffic identifiable, and converts the 95% of dealer site traffic that traditionally defects. Incorporating smart predictive matching and the best chat technology available - and powered by its proprietary behavioral engagement and scoring engine, 'B.E.A.S.T.' - Gubagoo engages new and repeat dealer site visitors with unprecedented relevance. Over 1,200 dealerships, including some of the nation's largest dealer groups, as well as OEM-certified programs, already have adopted Gubagoo-powered websites.
Gubagoo Media Relations: 
Melanie Webber, mWEBB Communications, (949) 307-1723, Melanie@mwebbcom.com 
* Measured 1000 dealerships' diverse ad formats for conversion-to-lead rates: 30 days, April 2014.
** The 1,000+ dealerships studied use Gubagoo's website engagement solution, using behavioral analytics technology to track everything a visitor (and repeat visitor) does at a dealer's site - so they can be individually targeted with relevant, ramped-up offers.