From the top 25 "must-have" vehicle features to the optimal number of marketplace photos, new report from CarStory provides key insights on market
Key Findings
Optimal number of images on an online used car marketplace = 9
86% of used car shoppers log onto the internet first 
MP3, iPod, Bluetooth top three features in highest demand
Vehicles with prices ending in "99" convert the best
Vehicle condition is most important detail in vehicle description
Austin, Texas – April 1, 2015 – CarStory, the industry's largest provider of crowdsourced data and analytics on used vehicles, issued a white paper that reveals that 86% of used car shoppers log onto the internet first when deciding what car they want, while only 13% pick up an auto magazine. And, according to the analysis of 326 million searches over a six-month period, consumers are far more interested in 'make,' 'model' and 'distance-to-travel' than 'price.'' The white paper, entitled "How to Convert Used-Car Shoppers to Buyers," highlights some simple steps that auto dealers can take to better engage with online shoppers and is available now for immediate download.
The findings were derived from used car shopper surveys, combined with analysis of search data and used vehicles listings powered by Vast, the industry-leading big data platform for more than 300 automotive marketplaces. Access to this data puts CarStory in a unique position to understand how consumers shop for used vehicles.
"This data gives car dealers a fresh perspective on how to list and sell used vehicles – and helps the industry see inside the consumer's mind," said Chad Bockius, Chief Marketing Officer of CarStory. "With just a few simple steps, both independent and franchised used car dealers can drive greater engagement with vehicle listings on their own websites, as well as on auto marketplaces."
Winning Consumer Clicks
Less is More: The white paper reveals that vehicle listings on online used car marketplaces that feature just nine, key images versus 30 more detailed images resulted in a 71% increase in form submission. This is likely due to the fact that shoppers at marketplace sites are high in the shopping funnel and therefore unwilling to commit the time required to sift through a huge number of images. As shoppers get lower in the shopping funnel, they are interested in seeing far more images of the vehicle they want to purchase. 
Features Matter: The top 25 "must-have" used car features for consumers may surprise dealers, but, according to the study, 26% of consumers shop used to get "more features for the buck." MP3 support, iPod connectivity and Bluetooth lead the pack of 'must haves,' trumping high-performance tires, heated seats, etc.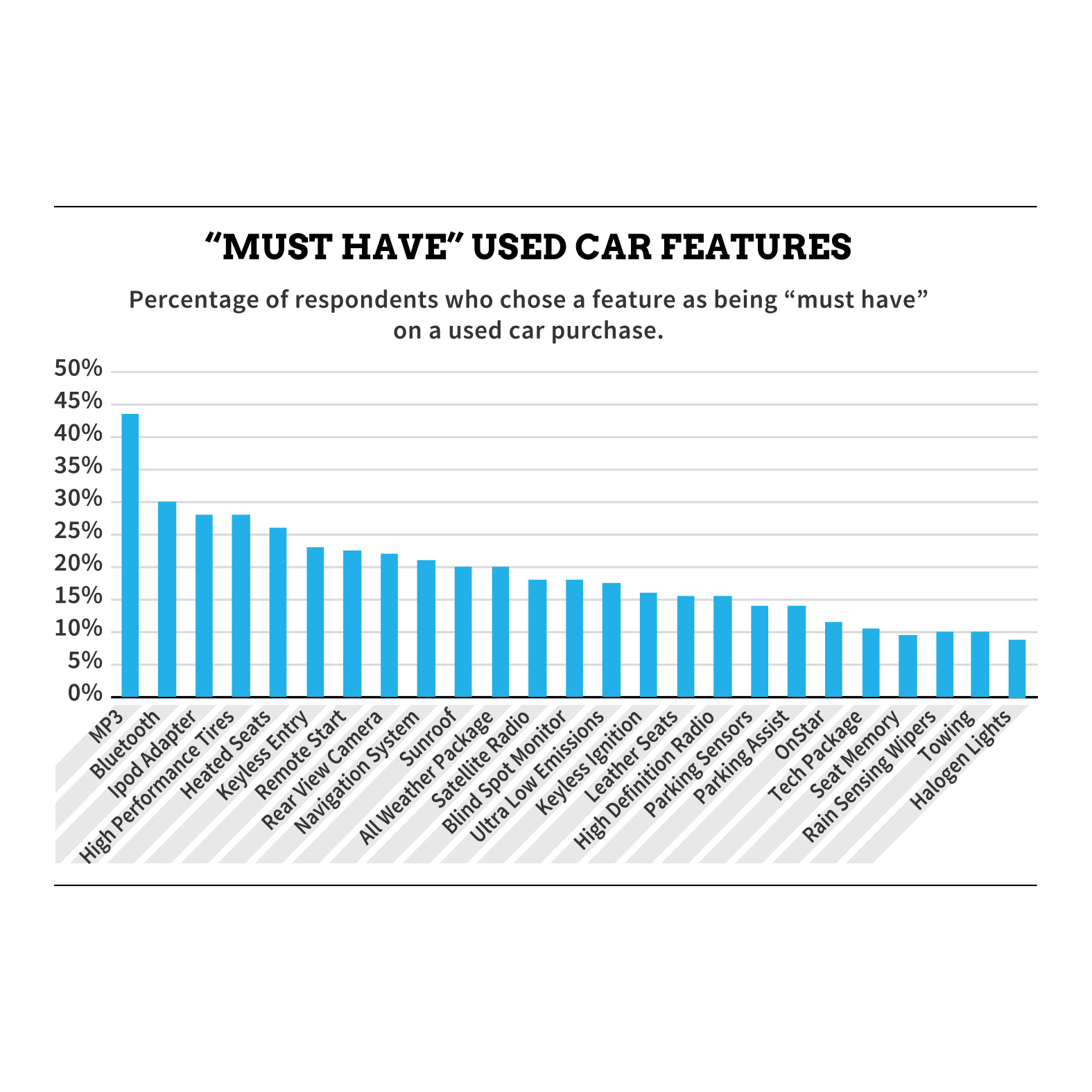 Tell the Vehicle's Story
Used-car shoppers spend a tremendous amount of time visiting websites to research, so providing the data they want early in the purchasing funnel can convert more shoppers to buyers. Vehicle condition (81%) and accident history (77%) are most important to consumers, but they also want to know how a vehicle's price (68%) and mileage (64%) compares to others in the local market. 
​​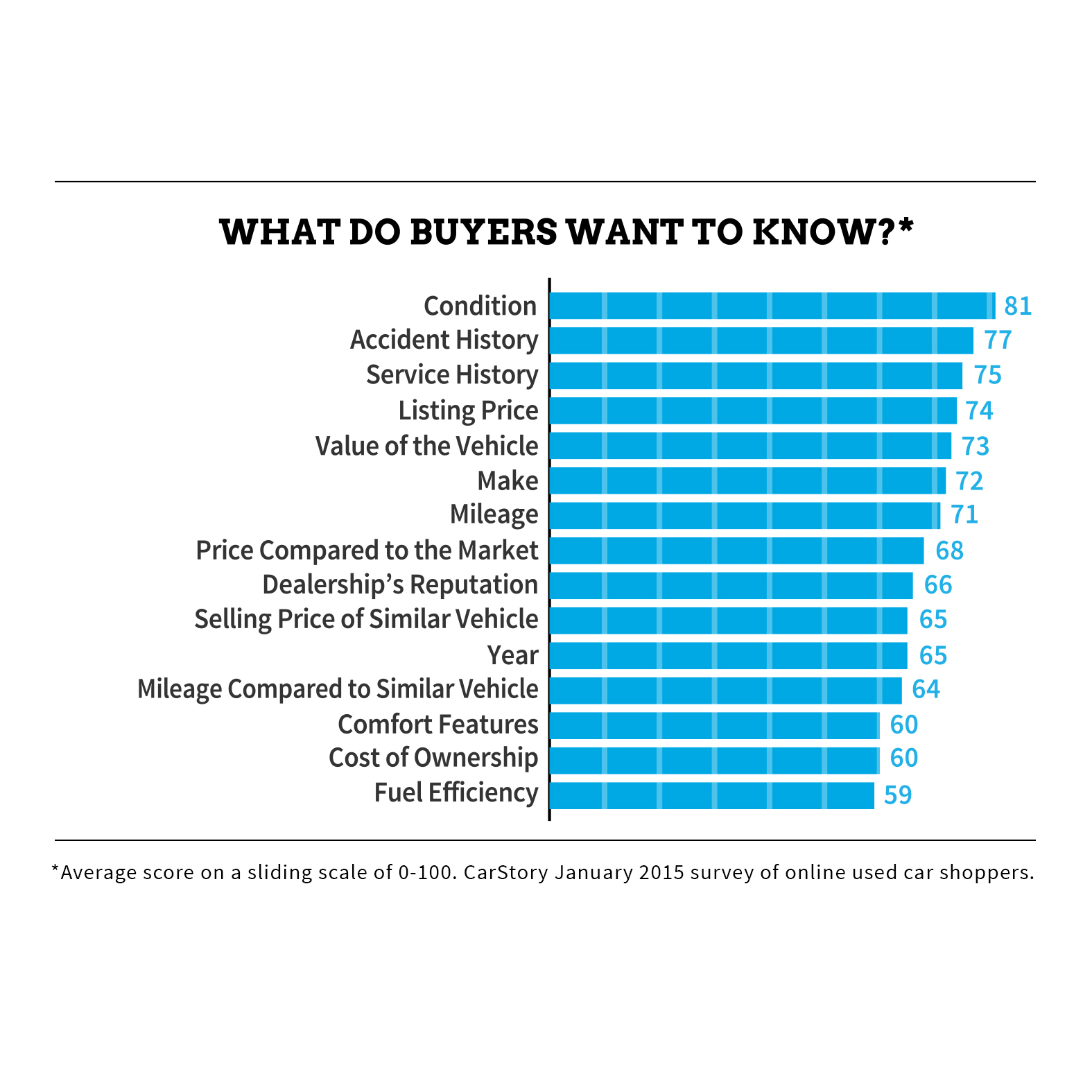 Prices Ending in "99": It's true – consumers are drawn to prices that end in "99". However, research showed that most used car price tags end in "00" or "95," while those that get clicked on with the most frequency end in the magical "99". There was a 16% lift in clicks from vehicle search results to the all-important and high-converting Vehicle Detail Pages when prices ended in "99" compared to "00."
CarStory's white paper, "How to Convert Used-Car Shoppers Into Buyers," was presented at Insight15 Customer Loyalty & Retention on March 24, 2015 and is available for download now.
###
About CarStory
CarStory is the industry's largest provider of crowdsourced data and analytics on used vehicle pricing and preferences. CarStory Market Reports synthesize over four million real-time used vehicle listings with crowdsourced data from over eight million searches a week to produce unique insights that help move consumers from online shoppers to on-the-lot buyers. By uncovering facts, features and competitive differentiators that make each vehicle unique in any given market, CarStory offers dealers and consumers the confidence they need to condense the sales process and walk away happy. Learn more at CarStory.com
About Vast
Vast is the premier provider of big data solutions for life's biggest purchases. Vast's industry-leading big data platform and applications are currently in use at many of the largest automotive, real estate and travel businesses in the world. Vast serves Global 1,000 companies, including AOL and Southwest Airlines, and powers more than 300 automotive marketplaces. Learn more at Vast.com.